ArchiSoccer Cup

News Report
ArchiSoccer Finals Series 2019
19/02/19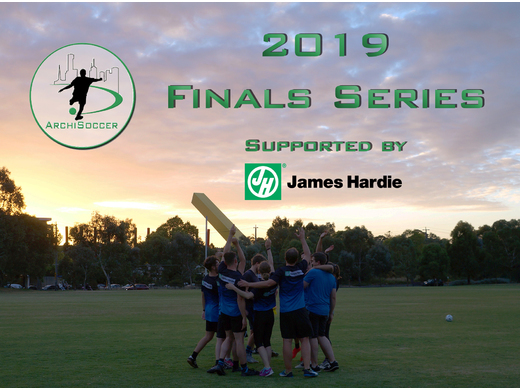 Hi All,
The finals series looks a little different this year as a result of having a 5th division added to the competition. We had 49 teams partake in the competition and that has been whittled down to 24 for the upcoming finals. The top teams in each division get an automatic qualification to the round of 16, the other qualifiers will battle it out in a one game knock out to meet them in the round of 16.
The competition is about as close as it has ever been and very fine margins have separated those that made the cut and those that did not. Some notable outs for this years finals series are Fender Katsalidis, Carr Design & DesignInc who have been stalwarts of the finals series over the last 5 years or so, but not this year.
It is worth noting a few things before we enter the finals series.
1. No new new players can be introduced/registered after the last league game has been played. Only players who have participated during the season can play in the finals series.
2. The same rules of play will be applied for the finals series as for the remainder of the season. the captains shoulder the responsibility of enforcing these rules and ensuring their team play in the spirit of the game. Referees will be introduced from Quarter finals onwards.
3. In the event of a drawn game, extra time will be implemented. This will consist of two 5 minute halves each way. Should the game remain drawn after extra time the game will be settled by a penalty shoot-out.
Each team is to take 5 penalties, one of which must be a female player. If the result is still tied after each team has taken their 5 penalties, the shoot-out continues to sudden death. Each of the teams will take alternative penalty shots, the winner being the first team to score a goal that is unmatched by the opposing team.
Penalty Kicks are to be taken 5.0m from the goal line. The goal keeper is prohibited from leaving his/her line.
4. Ensure all games commence by 6:30 at the latest as the evenings will be getting shorter and should extra time be required we do not want to run out of daylight.
5. All games will be played as scheduled in Ross Straw Field except the final which will be played at Wesley College on Thursday the 21st of March