ArchiSoccer Cup

News Report
Mixing it up
Author: Adrian Doohan, 30/11/18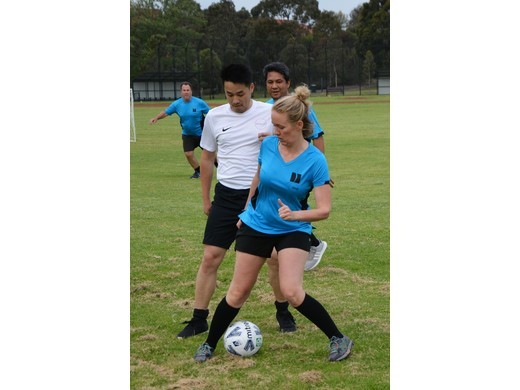 This year we have initiated the conversation about achieving a better gender mix in the league and increasing female representation on the field.
ArchiSoccer has since its inception been a mixed gender soccer league and on reflection this has been one of its greatest strengths. The fact that the whole office plays as a combined group adds to the communal and social nature of the teams and subsequently the league.

The numbers of registered female players in our league are in the order of 35% and females make up 22% of our Team Captains. We referenced a recent survey presented in the AIA Champions of Change document to check our participation rates in the context of our industry. Across the entire architecture industry the percentage of females to males was 35% to 65% and for junior office members it was 47% female and 53% male.

Whilst the above ArchiSoccer participation rates are a positive start, much like our industry there is more that we should and could be doing. We place the same value on both sexes in our league and we want greater female representation on the field across all divisions and in positions of leadership.

Let's start by looking at the current mechanisms by which this is governed. Currently the rules stipulate that there must be a minimum of one female player on the ground at all times of the game.

Having watched many games over the years it appears that the teams in the higher divisions generally observe the minimum quota. However, the lower down you drop in divisions the more that teams play with whoever is there on the night irrespective of gender. This year in Division 1, 31% of the registered players are female, however they generally only represent 17% of the game time.

In the last five years, at two separate AGMs it was tabled that we should consider changing the rule to a minimum of two female players on the ground per team. On both occasions this was voted down because it was noted by many of the captains that they would struggle to get the numbers to play, resulting in the rule being left as is.

So then we have to ask why are teams unable to get the numbers?

Anecdotal feedback suggests that some females haven't always felt safe or comfortable and at times their contributions could be undervalued.

In a bid to combat those sentiments we looked at how we could create a more safe and comfortable environment for females to play. It was suggested that we could establish a division that was female only. We canvased that proposition to the wider audience earlier this year in our Player Survey by posing the question "Would you be supportive of a new ArchiSoccer women's division?"

While most respondents (62%) gave their support for the idea of a new women's division, it was clear from the landslide of comments that having mixed divisions is what people enjoy most.

One female player said "I am a woman however I have mixed feelings about this as part of the benefit of socialising/networking with others is that it includes all genders. If we want architecture to be inclusive ArchiSoccer should be too. But can understand if some women would feel more confident in a women's division."

Another player noted "I would prefer to keep it mixed for social reasons and keeping office culture etc.…I think an increased number of women per side is a better step forward than introducing a whole new league."

The general sentiment was that if we want to create a safer more inclusive league we would be better to look at rebalancing the female numbers in each team, rather than the factiousness of a creating a separate division. If we were to look at incorporating this change it would need to gain support at the AGM from the captains. Their initial concerns about struggling with numbers of females on a weekly basis is a legitimate issue. However, the philosophy being that by increasing mandatory numbers it creates a more inclusive environment for a greater number of females. In changing this it would hopefully be a more inviting option and in turn encourage greater female participation.

Clearly we need to continue this conversation and hopefully you will also continue to have this conversation within your own teams and offices and with your captain. If you're interested in providing more in-depth feedback on this topic or championing increased female participation in the league, please contact us at archisoccer@gmail.com, We would love to hear your thoughts.