ArchiSoccer Cup

News Report
Round of 16 Wrapup
05/03/19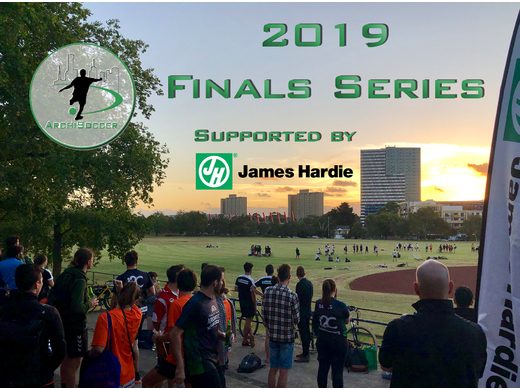 Results:
CHT Architects 1 - 2 Gray Puksand +
Clarke Hopkins Clarke + 2 - 1 March Studio
DCM 1 - 5 Map Architecture +
DeNova Group 1 - 3 Bates Smart
Hassell 0 - 5 Sora Interiors
Plus Architecture + 2 - 1 John Wardle Architects
SJB 2 - 4 Architectus
i2C Design forfeited to NH Architecture

CHT Architects 1 - 2 Gray Puksand +
The defending Champs CHT faced Division 2 winners Gray Puksand + in what promised to be an epic encounter, and boy it certainly did not disappoint. The intensity and skill level was worthy of a grand final. Gray Puksand + were the first to get on the score sheet. After applying some solid pressure in the forward half the ball spilled loose in front of goals and Adam Dwyer was on hand to punish the mistake. CHT clawed back into the game with some great composure in front of goal as Gifford and Gumucio knocked the ball from side to side until the opportunity presented and Manny Gumucio coolly slotted it home. Both keepers had a busy evening and it was anyone's game for the taking. The atmosphere was palpable, so much so that the Gray Puksand + captain Francesco Perrone's heart monitor skipped up to 123bmp without even taking to the field for a run. Maybe it was just him trying to manage a squad of 17 players that did it! The killer blow was delivered by the ever-present Adam Dwyer from Gray Puksand+ with a low drive through the defence into the net. And so, it finished 2-1. The defending champions are out!


Clarke Hopkins Clarke + 2 - 1 March Studio
Clarke Hopkins Clarke faced a greater unknown in newcomer's March Studio who were undefeated for the year and comfortably topped Division 5. CHC took the early lead through a signatory Teddy Chung finish and they seemed to have the ascendancy with plenty of chances that somehow went unconverted. March Studio though sheer grit and tenacity fought back to level the scores through Julien Ybert. However, CHC were able to once again push it home with a 2-1 win. They now go on to face Plus Architecture +. The last time they played five weeks ago it finished in a draw, so it'll be another intriguing battle.


DCM 1 - 5 MAP Architecture +
DCM have had a standout year in Division 2 and appear to have recruited well in last years off season to bolster their squad. Even though they were undefeated for the year they were still the underdog as MAP Architecture were looking to make it their third quarterfinal in as many years. It was never going to be an easy task for DCM, especially when MAP have their full squad. DCM certainly did not let them have it their own way and were matching them all over the pitch for much of the first half. That was until MAP got a head of steam up, they then steam rolled home to win 5-1. DCM may rue giving Ilaria Federici too much room on the back post. She finished the night top scorer with two goals to her name. Next up for MAP is the goal machine NH Architecture.


DeNova Group 1 - 3 Bates Smart
Bates Smart faced DeNova Group for a place in the quarter finals. It was a heated affair where the lines between determination and aggression seemed to be considerably blurred. Several cumbersome tackles spilled over into confrontations that had the potential to blow up, each blaming the other. As always it came down to a few antagonistic individuals that simply fail to understand the spirit of what ArchiSoccer is about. The behaviour has no place in our game, period. The game itself was just as tense as the atmosphere and it was deadlocked at 1-1 until late in the second half. Bates managed to sneak in a matchwinner and as DeNova heads dropped they quickly pounced with a second to finish the game off 3-1. They will now face Architectus in the quarters. A repeat of round 1 where Bates took the spoils, but both teams have come a long way since then.


Hassell 0 - 5 Sora Interiors
Sora were buoyed by the timely return of their keeper Deniz Verol to the squad. Hassell on the other hand were seemingly hampered by the loss of their playmaker Elia Tonutti who suffered from a season ending knee injury a few weeks back. Rumoured to have played underage football for Italian Serie A club Udinese, he would be a loss to any side. Still the show must go on. Hassell managed to hold their own for the first half and only trailed by a single goal at half time. The second half however was a different story. Sora added a further 4 with Michael Tempone, Brylee Schache, Natalie Bogdan and Kristoffer Ek all getting on the score sheet to win the game a comfortable 5-0. Sora in their first year of competition have made it through to the quarter finals. Their dream of facing their sister company CHT in the finals came oh so close to a reality, but alas they will face CHT's slayers Gray Puksand instead.


Plus Architecture + 2 - 1 John Wardle Architects
The statistics would tell you that Plus Architecture has the tightest defence of the 49 teams in the competition. However, this fact did not deter the John Wardle team who were able to slip one past the keeper early in the first half. It was a tense battle that was unfortunately blemished by some clumsy and over aggressive tackling that resulted in both teams getting a bit heated. It was disappointing to witness. As the game progressed the writing looked to be on the wall for the Division 1 champs before their fate turned. A John Wardle own goal late in the second half saw the contest draw level. The game went into extra time and before the lottery of penalties came to play, who else but Marco Satori drilled a classic left foot shot through the masses into the back of the net. Plus survive for another week. Next up CHC.


SJB 2 - 4 Architectus
Architectus faced the unbeaten SJB, the winners of Division 4. Though Architectus had much of the play early, SJB kept coming back at them, coming from a goal behind twice to level the scores. At 2-2 with the game in the balance mid-way through the second half Architectus put their shoulders to the wheel and managed to find the net on two further occasions. And so it finished 4-2 consigning SJB to their one and only defeat for the year. Architectus now go on to play Bates Smart.


i2C Design forfeited to NH Architecture
In a bizarre turn of events i2C Design, despite their remarkable run of form all year withdrew from their clash with NH architecture minutes out from the kickoff. The reason why remains a mystery. One can only hope that the team were not held back due to a dreaded deadline. Surely no boss could be that cruel to deny a team their moment in the sun after building up to this all year.
NH progress straight to the quarters and may rue the opportunity to sharpen their skills as they will now not have played for two weeks. Time will tell as they face MAP Architecture this week.

Postscript update: 3 of the i2C team had to travel interstate for work leaving team with insufficient numbers.