ArchiSoccer Cup

News Report
The 2019/2020 season has kicked off
Author: Adrian Doohan, 02/12/19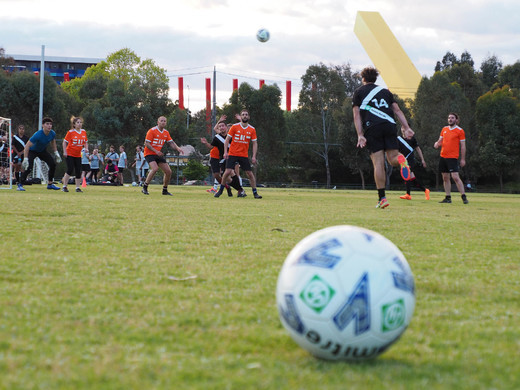 Hi All,
It's been a slow start to summer this year, but not for ArchiSoccer. We are back bigger and better than ever for 2019/2020.
We have had a busy few months since we last touched base, and hopefully you like the new and improved ArchiSoccer.
Some of the major changes that you will notice this year:

More teams and more games: we have 57 teams participating this year with over 1100 registered players for 2019
More events in the park: with the sponsors support we have been able to host events after 75% of the games in the park.
Greater inclusion: we are trialling the raising of the minimum number of females on the field. From next year it will be become a mandatory minimum of 2 females on the ground.
This year we say farewell to five teams from the league: De Nova Group, DKO, Fieldwork, Haskell, The institute and Vincent Chrisp.
We welcome back Six Degrees who haven't played in a few years.
And we extend a huge welcome to 12 new teams; Aspect Studios, Binyan Studios, BSPN Architecture, Hames Sharley, Lovell Chen, Fitzroy Falcons +, Tract, Woodmarsh, ARM +, GBLA, GPID, Telha Clarke +. It's the first time we have had landscape architects and Architectural visualisers as part the league.
As always this has been made possible by the wonderful support of our sponsors:
We are delighted to welcome back Bloomfield Tremayne and Partners as our Principal Sponsor for the league. They were the major sponsor 10 years ago and we are delighted to team up with Bruce and the team once again. I'm sure you're happy to see them back too as they circle the grounds with their buckets of chocolate goodies on a weekly basis. Thanks guys.
We are also thrilled to have the guys from James Hardie back on board this year as a secondary sponsor. We appreciate their long time support of the league. This continued support has enabled us to flourish and grow.
We also welcome Autex and Deltek on board as secondary sponsors this year. Their support has enabled us to host a great many events at the grounds this year.
Massive thank yous are also due to long time supporters the Graphical Thread and AR who are back on board this year as base sponsors and we also welcome on board Away Digital for the first time.
Please show your support to our sponsors when you can - without them we couldn't run this league.
It promises to be a bumper year and we are thoroughly excited for the season. See you on the field or at a clubhouse event soon.
Adrian Doohan
Coordinator