ArchiSoccer Cup

News Report
The evolving nature of ArchiSoccer
Author: Adrian Doohan, 02/12/19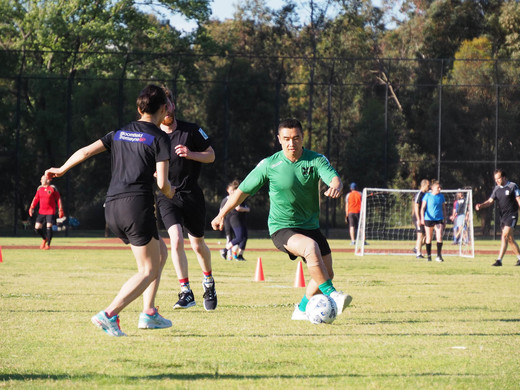 We have been running the ArchiSoccer league for many years now, but the truth is we are merely its custodians. It has grown into something far bigger than any of us and its impacts are much greater than we could ever have anticipated. When you see how much it means to so many people and the joy it brings it really inspires us to strive for greater.

Fortunately, ArchiSoccer is only played for 5 months of the year which means we get 7 months to assess and start building towards the next season. It's a luxury that most organisations don't have. When we look at improvements, we invariably always come back to the things that matter most.
The foundation stones on which ArchiSoccer are built upon are:

The idea of a shared experience with your work colleagues that helps to break down barriers within the office and not just for those who are playing but also for the wider office as they share the experiences on a weekly basi
The idea of inclusivity and diversity, no matter what age, gender, ethnicity, architectural prowess, everyone is an equal on the field
The idea of getting people away from their desks early once a week and having a kick and a bit of fun in the park. Unfortunately, the architecture industry is beset with long hours and stressful work environments and we want to challenge that and break the architectural mould
The idea of promoting wellbeing both physically and mentally through exercise and reconnecting with nature and people
The idea of providing a framework but letting it flourish into its own thing.
Whilst most of you felt like we were doing well in many of the areas above, there were some aspects that we could improve on as noted in last year's survey responses. We also wound back to the clock to when we first started playing ArchiSoccer ourselves and asked what it was that we loved about it so much back then. There was a lot of correlation with what we heard and what we thought ourselves. Through that process we identified several items we wanted to address this season.
"No matter how good you get you can always get better, and that's the exciting part." – Tiger Woods

Social events
One of the things that was so appealing about ArchiSoccer in the early days was that no matter how competitive or close a game was we always went together to the local pub afterwards. It was the recounting of the game and the banter with the opposition that enabled friendships to be formed with players from other offices.
With the growth and organisation of ArchiSoccer it became necessary to have permits to play. Having a friendly kick in Fawkner Park and wandering over to the Max Hotel was no longer an option. Whilst the days of playing in Royal Park have been fantastic, we have often lamented that in being so much more remote we lost a bit of what ArchiSoccer was about.
While socialising within teams is a good thing, there was a missed opportunity to extend this and build relations across the industry. We periodically had events at the clubhouse which were generally well received, however they were simply too infrequent to accomplish what we once had.
This year we have pushed a lot harder to involve more sponsors. We have also afforded them the opportunity to get greater access to the players. In turn this has enabled us to organise events for 75% of the games. It has been mutually beneficial and the events have been well received by both players and sponsors alike. It has been great to recreate that social aspect of the game and we hope it continues for many years.
Inclusivity/Diversity
ArchiSoccer has since its inception been a mixed gender soccer league and on reflection this has been one of its greatest strengths. The fact that the whole office plays as a combined group adds to the communal and social nature of the teams and subsequently the league.
We had a lot of constructive feedback on the topic of female inclusion in last year's survey. On the back of that we wrote an article titled "Mixing it up" which was about achieving a better gender mix in the league and increasing female representation on the field. The overriding sentiment was that we needed to increase the number of females on the field to be truly inclusive. The mandatory representation of female players on the field was previously 1 in 6 players, ie. 16%. The proposal was to raise that number to 2 as a minimum, taking that to 33%. The motion was tabled at this year's AGM and it was unanimously supported. However, understanding the significance of the change for some teams at short notice it was decided to delay the introduction of the change to 2020/2021. It will be actively encouraged and trialled by mutual agreement for teams that wish to take it up during the 2019/2020.

We are that one step closer to creating a more inclusive environment for all to enjoy.