ArchiSoccer Cup

News Report
The importance of fun and play
Author: Darian Szyszka, 13/01/20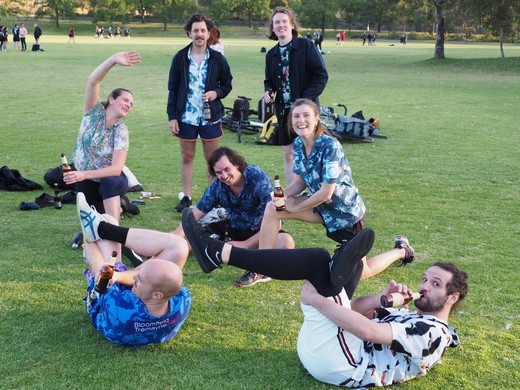 The title may lead you to believe that you've accidentally stumbled onto a "raising toddlers" blog or a Steiner school newsletter; but no – these are the ramblings of a man who believes (with some conclusive scientific data mind you) that fun & play are as important for us as adults as it is for kids.
In our hectic modern lives, many of us focus so heavily on work and family commitments that we never seem to have time for some pure fun. Somewhere between childhood and adulthood, we stopped playing. When we do find some leisure time, we're more likely to watch Netflix & chill or get lost down the social media rabbit hole than to simply engage in fun, rejuvenating play like we did as children
Recent studies have shown that engaging in play with either by yourself or with your friends & co-workers is a sure (and fun) way to fuel your imagination, creativity, problem-solving abilities and emotional well-being. Adult play is a time to forget about work and commitments, and to be social in an unstructured, creative way. By giving ourselves permission to play with the joyful abandon of childhood, we can reap plenty of health benefits throughout our lives.
It can often be tempting to think that the best way to cope with an ever-increasing workload is work longer and harder. However, without some recreation time, it's more likely that the work will suffer, and you will become chronically overwhelmed and burned out. Encouraging play, on the other hand, creates a more light-hearted work atmosphere that in turn encourages employees to take more creative risks.
Now that all sounds simple doesn't it; just go out there and have fun! However, what has become evidently clear is that the art of having fun and being allowed to just play has become a very serious business. The very nature of play, at its core, is a little chaotic and exploratory – it's not neat or organised - in fact the act of over structuring play is a sure-fire way of destroying play all together.
ArchiSoccer has always strived to provide a platform for play, for socialising. We have always walked that fine line of structure and freedom of play. We have in place a set of rules as a reference point to hopefully allow this type of play to flourish. The key to making play fun is that we respect each other and understand that although we may come to the pitch with varying perspectives and desired outcomes, the end result should always be the same; fun and sparking joy.
In all the years that we have been running ArchiSoccer, what was most important to us in the beginning is still as relevant to us today; to create a safe, engaging space where we as adults can relax, let go of all the high frequency digitised noise and just have some unadulterated fun & play!
To fulfil this ambition, we really only need focus on a few key things;
> Treat everyone with respect;
> Play fair and don't cheat;
> Remember that in the end its all just a game; and
> Regardless the results, if at the end you can smile, you have already won.
So by all means go out there and be competitive and push yourself to be better; or go out there and make sure people are being respected and have equal opportunity on the pitch; but please, while doing so, don't forget the fun and joy of just simply playing.
Funnily enough, what makes for a good soccer league also makes for a good life!