ArchiSoccer Cup

News Report
Weekly update 13th March
13/03/19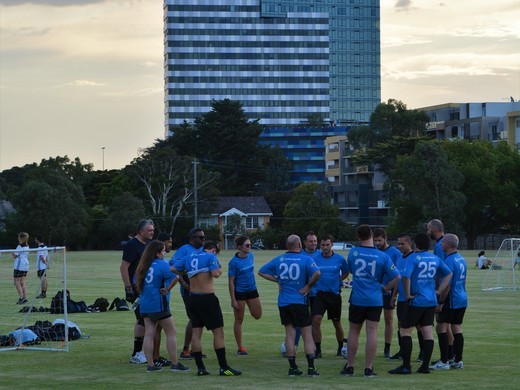 Hi all,

We are now down to the last 4 of the competition which comprises the top 3 finishers in division 1 and the top team in Division 2. In years gone by the form in the regular season has not often been a predictor of form in finals. This year has been an exception to the rule.

We are really looking forward to this week's games and it'll be a coin toss as to who will progress to the grand final. Bates smart made it all the way to the final last year and will be looking to go one step further to lift the cup. Plus have been runners up in 2 of the last 3 years and will also be looking to take the next Step. MAP on the other hand know what it takes having won the competition 2 years ago. they are arguably in better form this year than they were 2 years ago however the standard of the league has also improved. Gray Puksand + are the only non-regulars at this end of the season despite playing tin the competition for over 10 years.

Commiserations to NH Architecture, Sora interiors, Clarke Hopkins Clarke and Architectus who crashed out of the competition last week, they all had a very successful season and can be proud of reaching the quarters finals in an increasingly talented competition.

For a full wrap up of the Quarter finals click here

This week's semi-finals are:
Plus Architecture + V. MAP Architecture
Bates Smart V. Gray Puksand +

It seems like our machiavellian bookmaker wasn't too far off on his odds last week, so we went back to him for his thoughts on this week's games,

Game 1 Winners
MAP Architecture + $1.60, Plus Architecture + $2.45
Game 2 Winners
Bates Smart $1.85, Gray Puksand + $2.10


The grand final will be played at 5:45pm on Thursday the 21st of March at Wesley College.
Our End of season Party will be held at Retro rooftop on Thursday the 28th of March, see you all there.